"Czech food is everything, not just goulash and sirloin. It's so rich and fascinating," says columnist and blogger Petra Tajovský Pospěchová. He recently published an encyclopedia of the tastes of the entire Czech Republic. In addition to a guide to traditional foods, it also includes an unusual tourist guidebook.
You'd be hard-pressed to find a more appropriate author of a regional Czech cookbook. Petra Tajovský Pospěchová was born in Olomouc, spent her childhood in Hana and Wallachia, then moved to Brno to study, after which she settled in Prague for a few years. From there, however, she moved to Vysosina to join her husband five years ago.
"I feel better in the mountains and hills, which is why I let my husband take me to Vysosina. However, Wallachia is close to my heart. The place where I live now resembles the surroundings of Vyszowice." Says the ubiquitous author of the Czech Atlas of Tastes, Moravia and Silesia, and outdoor cookbooks.
According to her, the mountainous landscape not only determines the character of the people but also the local straightforward cuisine. Simple foods suit her best. "I think most people don't like complicated things. Food shouldn't be a big puzzle, everyday food should be understandable and logical," he says. And he cites the gastronomy of northern Italy as a prime example. "They can make something special and attractive to tourists out of the simplest materials out there," he explains.
The Czech Republic excels with soups, dumplings and cakes
According to him, even Czechs are slowly realizing that national gastronomy is more than goulash, beer and sirloin. "It is wrong to reduce Czech food to goulash and sirloin. It is very rich and exotic. I remember once I hosted the American TV channel Vice and cooked regional specialties for it. I prepared Krkonoše kišelo and double bass for the journalists. Among other things, they were surprised, they were surprised. We can cook interesting, valuable food from groats or sourdough. For them, sourdough was the only basis for bread, and barley was fodder for animals," recalls Petra Tajovsky Posbachova. .
Author photo: Archive Smart Press
Tip for Wallachian Gastronomic Travel
"I definitely recommend a walk to the Zavornik ridge in Wallachia. There are two good restaurants next to each other that focus on local specialties. One is Kohutka, where you can buy great blueberry dumplings to take away. And the other, a little further away, is Portáš, where you can taste Wallachia at its best. Taste in all aspects. They serve lamb, local beer and cider from Visovice," listed Petra Tajovski Posbachova.
In Trojanovice, the author of the Taste Atlas recommends a visit to the restaurant Recovice, where they prepare rabbit, double bass, sorrel or duck.
The best currency of Czech cuisine, something we should be proud of, according to him, is simplicity, creative processing of individual ingredients and surprising flavors. "If you want to promote the whole of the Czech Republic in terms of cuisine, you should focus on soups, which the Czech Republic excels at, and a variety of sweet cakes and puddings," says the advertiser.
In the book, he describes a total of 135 recipes for dishes from across the country and folk traditions associated with the food. In this way, readers will be called fools, musicians or May Salad.
It reminds us that the menus of our grandparents and their grandparents were dominated most of the week by simple vegetable and lentil soups, salty porridge lightly smeared with lard, processed pancakes or dishes baked in a baking pan.
Traditional local dishes are a new trend
Restaurants in the regions have also been returning to these traditions in recent years. They understand that even a small bistro with its uncomplicated food, desserts and seasonal menu attracts guests.
"You don't need a big restaurant with a lot of staff and sophisticated know-how. What we see in the Italian or French countryside are small kitchens where they have been cooking the same food for generations, but people come for it. All over the world," says Petra Tajovski Posbachova. Traditional regional cuisine serves as an attraction for Czech tourists, and foreigners are gradually getting used to it, he adds.
"I blame the Czech state administration and government for not being able to support it in some civilized way, instead they pay for the Michelin guide. Look at neighboring Austria. There is extensive, but simple marketing in individual regions. More costs are needed." Explains.
We don't need Michelin, ordinary people give the best reviews
Some time ago, the Michelin Guide was subject to critical scrutiny by Czech gastronomic and economic experts. The management of the prestigious Gastro Guide demanded several million crowns from the Czech government to report on its evaluators visiting the country and selecting local restaurants. After months of negotiations, the Czech government finally decided to pay the contribution.
Some gastroenterologists and economists praised government officials for this, while others criticized it, saying it was a completely unnecessary expense. "Michelin's case is unfortunate, the state gave out millions of crowns at a time when cuts were needed everywhere. Chefs of the most expensive restaurants in the Czech Republic say that we absolutely need Michelin and we would disappear without it. Culinary map of the world. This is an absolutely ridiculous argument, there are many other channels to find out the quality of a restaurant. " says Tajovský Pospěchová.
"I think that times have moved on so much that the average consumer is more interested in how Mr. Novak from the Benesov restaurant tasted than the mysterious commissioner from Michelin. In addition, he will not even give the correct and detailed reasons why he thinks that the restaurant should be better than others. should," he adds.
Back to grains and cabbage
The author's Atlas of Taste responds to the trend of recent years, where people are increasingly returning to their roots, local sources and ingredients, associated with a sustainable lifestyle.
"We've already eaten a mix of all the trends and cuisines, and we're going back to our grandmothers' dishes and ingredients," she says. According to Tajovský Pospěchová, grains, croats or perhaps curly beans, green beans and cabbage have made a big comeback in kitchens and on plates.
"I myself thought very poorly of green beans for years because of the school cafeteria where I fixed them as an abomination boiled in a sauce. But I got over that by going to a Japanese restaurant in New York. I ordered a beef steak with green beans. They were delicious, "I've been a bean apostle ever since," he laughs. "If you boil them for a couple of minutes they're delicious," he adds.
Consistency first
Petra Tajovský Pospěchová not only writes about sustainability, she lives it herself. He sources most of the ingredients to prepare his food from his own garden, family farm or local farmers. Thanks to the proximity of the mills, he can also choose first-class local flour.
"We also have great dairymen. We buy meat directly from small farms. I think in most places you can buy products directly from small producers. Yes, it is very difficult to buy, but it is possible," he says. "I believe that small actions by each one of us can change the society and liberate the landscape," he adds.
She doesn't like to spend hours in the kitchen and prefers to prepare simple meals. "It's very easy to cook from what's in the garden. But I love to bake sweet and savory cakes," she says. Her favorite dishes include Silesian picos or pierogi. "In the Sumava region, I always have poaching or thick potato pancakes. And the south-west of the Czech Republic is a dumpling zone for me. Around Jindrich Hradec, there are typical little cheese dumplings with blueberry jam," he enumerated.
According to her, traditional folk food is associated with specific people and stories. He recalls that many recipes differ from family to family. "Individual regions are not only recipes, but also links from which the cuisine of a given region arose," he adds.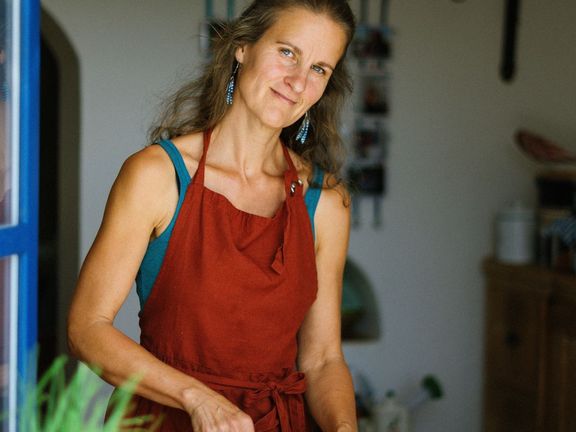 Photo credit: Jan Hromádko, Smart Press
Petra Tajovsky Posbachova
Journalist, columnist and historian lives in Vesele Cedar, Wysosin.
He is from Olomouc and spent part of his childhood in Wallachia.
He studied sociology at the Masaryk University in Brno and has been working in the media since he was 18.
After school, he joined Týden magazine, where he focused mainly on gastronomy, and also wrote for Hospodářské noviny, where he produced a long-running series on food quality. She currently writes for Respekt and Heroine magazine, and also works at the Highland Museum in Havlíčková Brod.
In 2013, he published a regional cookbook, an updated version of which he titled Atlas of Flavors of Bohemia, Moravia and Silesia this spring. In 2016, she published an outdoor cookbook.
In her free time, she enjoys rock climbing, mountain climbing, singing, and cooking.
He runs the blog Pospěška u platony.