Lubomír Volný spoke at Ladislav Vrabel's demonstration on Wenceslas Square. In his speech, he thanked the Red Army for its participation in the liberation of the Czech Republic during World War II. "If they weren't here, we wouldn't be here," he declared. Kateřina Konečná spoke at the 1st place protest in the Czech Republic, saying that the end of the defense agreement with the US is proof that the Czech Republic is definitely not 1st place for the government. The government will turn Czech citizens into second-class citizens. Konečná wants to send Stanjur a calculator.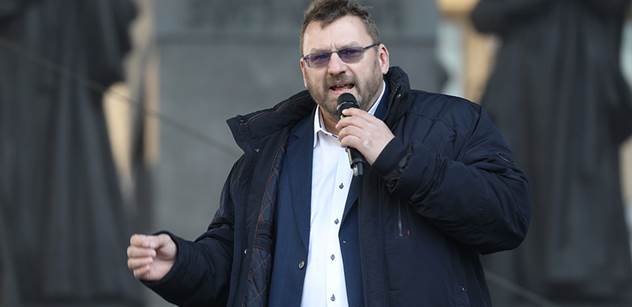 Former member of the Czech Chamber of Deputies, Lubomir Volny, spoke at the 1st Place demonstration organized by Ladislav Vrabel in the Czech Republic. He told the demonstrators from the start that no one would arrange peace or freedom for them, they had to do it themselves. "You know that if you don't arrange it for yourself, your children and the Czech Republic, no one will," he told the crowd of demonstrators.
"Each of us can proudly say about ourselves – I want peace, I am not a "wannabe" who wants the death of my own and other people's children," he said, not including himself. Even the fascist Europeans, who fought last century for a united Europe, listed Adolf Hitler "and today's Prime Minister Fiala, Nemkova, Chernochova, Priban, etc.", are social waste. .
He further praised the demonstrators for being able to stand up to Covid, Kiev and Czech fascism. "For that I give you my great thanks," thanked Volney. "You are the spark of hope that still burns in the face of responsibility in this otherwise slumbering nation that, in most cases, is waiting for someone to do for themselves what this nation needs to do for itself." The crowd applauded.
He also thanked the Czech Republic for helping to liberate the Czech Republic from World War II. "I want to thank those who came to our territory and removed this territory from the threat that now threatens the poor, raped Ukraine," he said: "Thanks to its presence (Red Army). – The day everything can happen – the landing – and thanks to that we can be here. The day "If the Red Army and Red Army soldiers were not here – no matter how inappropriately they sometimes behaved – if they were not here, we would not be here. We would be Ukrainians today, and Ukrainians would not be today," declared Volny.
This was followed by a speech by Katerina Konegna, Member of the European Parliament and member of the Communist Party of the Czech Republic. According to him, he started his speech by saying that the work of journalists and media should be made easier. "I'm a devil, and I'm proud of it!" she shouted to the crowd. "But don't forget I'm a cockroach and a cockroach, too," he introduced himself, then moved on to the main topic of his speech, the government-approved defense cooperation agreement with the United States.
Konečná understands the conclusion of this agreement as proof that the Czech Republic is not in the first place for the current government. "This agreement is proof that the Czech Republic is definitely not in the first place for our government," he said, and continued by saying that it was very important for the "five-demolition government" to thank the United States. "In the process, they will not hesitate to sacrifice the rights and sovereignty of our country – to America's soldiers – in comparison to what is allowed to poor little, second-class citizens, to create a Czech state," he said. MEP.
He said that it is only good for Zdenek Stanjura for these citizens to contribute to the state budget. "Unable to calculate, I decided to give him a calculator," he said, adding that he would send it to the finance ministry.
Konečná added to the security agreement that it was a pact with the devil, which would make the Czech Republic slaves to the United States.
KSČM
I am a Member of Parliament – thanks to you, for you, with you
MEP
You can also support PL's editorial office by purchasing a subscription. We do not show ads to subscribers.
Are you a politician? Post anything without editing. Register here.
Are you a reader and want to communicate with your representatives? Register here.
Ukraine (War in Ukraine)
News from the battlefield is difficult to verify in real time, regardless of which side of the conflict it is coming from. Both the warring parties may, for understandable reasons, publish false (false) information in whole or in part.
CTK updates brief information related to this conflict several times an hour On this page. PL editorial content discussing this conflict can be found on this page.
Fact check

Beta
A factual error in reporting? Help us fix it.