Photograph
The police had to calm the woman down to about three thousand
"Again..not Czech!" She wanted to fight the whole bar
Police officers had to deal with the incident at Darts Pub on Dylova Street in Pilsen just after sevenpm on Saturday. It all started when a heavily intoxicated foreigner asked for beer at a bar and the staff refused to pour it. "The Polish woman's legs were spinning drunkenly, but she asked for a beer with full force. The barman repeatedly told her that because of her condition, she was not allowed to pour it, but she responded by cursing that we were drunk. Sex and should have left before long. So the barman kicked her out of the establishment, But she became more aggressive and took things from the bar counter. So the guys took her out." A witness narrated the incident to us.
Unfortunately, this angered the girl even more and she wanted to fight with the people there. Company employees were left with no choice but to call the city police to the spot.
"When officers arrived, a thirty-six-year-old woman was frequenting the area with gestures and names reminiscent of an adult film. The officer calmed the woman down and later learned that these emotions were caused by staff. He refused to pour more alcohol on the already intoxicated woman. A police spokesman described the situation at the scene.
The woman later submitted to a breath test, which showed a positive result of almost three per thousand for alcohol. However, the woman calmed down during the meeting with the authorities, who advised her to sleep as there was no reason to put her in the Prohibition detention center and the whole matter was settled on the spot with a restraining order in place. , i.e. with penalty.
Of course, this wasn't the only alcohol-related case officers dealt with over the weekend.
He wanted to fight, but the ban overcame him
On Saturday afternoon, police officers approached a pair of men who were disturbing the public order in Borske Park. When the police convinced one of them to leave, the other started abusing the police, refused to cooperate and assaulted a policeman.
"The man's actions led to the decision to use forceful measures and spend the night in an alcohol detention center." A police spokesperson told us he breathed 2.92 breaths per thousand during a breathalyzer test.
The man, who was born in 1988, did not keep calm even while being taken to the prohibition station and after getting out of the car, he tried to outrun the officers. But in doing so, he tripped and fell unhappily, exploding his head.
Officers took the still-disturbed man away for medical treatment, and he was later booked into a sobering-up alcohol detention center.
After sobriety, the man's illegal behavior was dealt with by an injunction procedure, i.e. with a fine.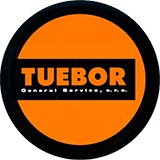 TUEBOR Public Service
Building Security • Service at Events • Security of VIPs • Central Security Desks • PZTS/EZS Projects • Field Division in Pilsen, Rokicány, Sušice, Kladovy, Domslice and Dachau • Consulting