02/07/2023 9:10 | from networks
On Saturday, Prime Minister Petr Fiala (ODS) visited the 57th annual film festival in Karlovy Vary, where he met actors Ewan McGregor and Russell Crowe. The Prime Minister displayed their joint photos on social media. Does Fiala deserve the award too? People are listening. "Your performance deserves an Oscar. However, politically a disaster," they angrily inform the Prime Minister.
Prime Minister Petr Fiala enjoyed the ceremony in Karlovy Vary, where he personally met, for example, Scottish actor Ewan McGregor, who on Saturday received the Crystal Globe Award from Jiri Bartoska, head of the Karlovy Vary International Film Festival. "I feel very lucky to be an actor and I love what I do," said McGregor, who brought her daughter Clara to the ceremony, adding, "It's like a dream to be here."
Prime Minister Fiala immortalized McGregor with a glass of champagne in hand and later shared the photo on social networking site Facebook.
His photo sparked a heated debate on Facebook. People teased Fiala that he was also a good actor and asked the prime minister if he had bragged to McGregor about his government's policies.
"…He thinks you're an actor too, doesn't he? Your performance deserves an Oscar. However, politically a disaster," said debater Martin Wejslik.
"Do you brag to him about how the ODS representatives voted on the issue of marriage for all? He will certainly appreciate you," Radka Fuksova wrote under Fyal's post.


Fiala also shook hands with Russell Crowe, who won an Oscar for Gladiator and a Golden Globe for Pure Soul. On Friday evening, actor Grove added the Crystal Globe for Best Contribution to Cinematography to his collection at the film festival in Karlovy Vary.
"I was very happy to meet Russell Crowe," the Prime Minister added in a joint picture on Instagram.


At this stage too, severe criticism was heard in the following discussion.
"Want to be like this: Mr. Russell Crowe, I liked you, but I will never see Gladiator again after this," wrote one contributor to the discussion.
For example, others expressed satisfaction that Fiala shook hands with someone he "didn't have to be shy about."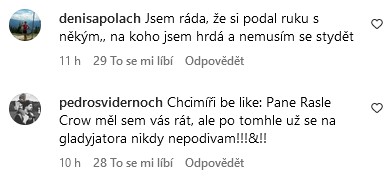 Contrary to the mood of the people on social networks, the Prime Minister seems to have received a warm welcome from the public in Karlovy Vary, judging by the photos he posted on his social networks. The Prime Minister took photographs at the spot and exchanged a few words with fellow citizens.




And, of course, there was a festival welcome from festival chairman Jiri Bartoska, who was released from hospital on Wednesday, where he had been due to complications from the virus. Bartoška traditionally opens the festival and presents its main prizes.


Prime Minister Fiala caused a stir last year by attending the Karlovy Vary Film Festival, where he was traditionally welcomed by festival chairman Jiri Bartoska and met Slovak Prime Minister Eduard Heger.
"In Karlovy Vary, Jana and I met Eduard Heger and his wife Lucia. It was the first chance for our wives to get to know each other, while we went to the cinema together. Actually, it was four Saturday dates," he shared on his Facebook at the time.
Many people were very interested in the photo of the restaurant of the Grand Hotel pub where the Prime Minister and his wife dined. Jiří Bartoška organized a festive dinner for them, and as the photos show, the mood was great at the lavishly laid table.
Petr Fiala shared on his Facebook that he had the opportunity to speak with many festival guests.
However, the photo of the smiling company in the grand hotel seemed insensitive to many considering the Prime Minister recently told citizens that they are on hard times and are shocked to see their energy bills.
But this year, some of the Prime Minister's fans see it differently. According to them, he managed to drive the Republic out of Marast, and for that he deserves to rest at the festival.
You can also support PL's editorial office by purchasing a subscription. We do not show ads to subscribers.
Are you a politician? Post anything without editing. Register here.
Are you a reader and want to communicate with your representatives? Register here.