25/05/2023 22:52 | from networks
Wherever he goes, Prime Minister Petr Fiala (ODS) explains the need for government measures as part of a recovery plan for public finances. This time he did so on the Radio Channel's airwaves, where he once again assured critics that he would not bow to pressure. But he upset his fellow citizens and received a good blow on social networks: "You Brno chaos! Get ready to protest," they angrily tell him.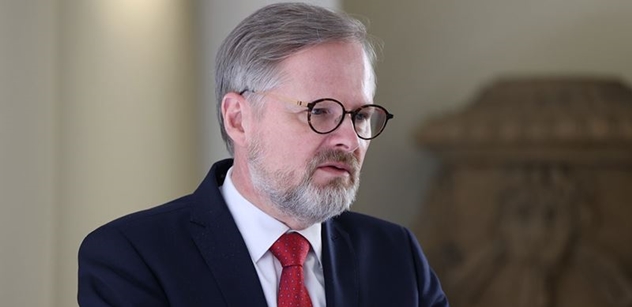 Most of the savings will be on the state's spending side, with national subsidies for companies cut by 46 billion kroner. Also, the cost of civil servants is 20 billion crowns. On the income side, the five-member government coalition proposed VAT changes, higher taxes, two new rates and the abolition of 22 tax incentives, as well as changes in pensions.
The consolidation package has been heavily criticized by opposition parties and trade unions. But the five-man government coalition led by Fiala believes that the only thing they need to do now is explain their actions adequately to the public that they are taking their money.
Questionnaire
Are you satisfied with the form of "reform" proposed by the Alliance of Five?
Voted by: 18111 people
Therefore, the Prime Minister explained on Radio Channel why the changes brought in the austerity package are necessary. "We have a situation where the state is going to be in trouble because the deficit is going up. I think everyone understands that you have both in the family, and if expenses continue to exceed income, it's going to get worse. And, as it gets worse for every family, if it's going to keep long-term income higher than expenses." , it will turn out badly for the state," the Prime Minister asserted on the radio channel.
"We have to take those steps. It's clear that personal interest and professional groups will speak up. We counted on that," continued Peter Fiala.
"We are ready to discuss, I have said again and again: we are ready to correct where we have gone wrong. I am not aware of anything like that yet. But we are not ready to succumb to pressure," the Prime Minister reiterated.
We are in a situation where the state is in trouble due to the growing deficit.
Like being in a family –? If you consistently have more expenses than income, things will turn out badly. It is clear that we need to take austerity measures and interest and professional groups will speak up. pic.twitter.com/qAOvWCdSgq

— Peter Fiala (@P_Fiala) May 25, 2023
But people laughed at his arguments on social networking site Twitter, where he shared a short video from the interview.
"Tax increase is not savings. There is something wrong with you," the debater told the prime minister.

Another contributor to the debate pointed out that the government is not saving where it should and is taking meaningless measures: "That's why military scrap is bought at high prices and pirates are given the freedom to use the identifier – another step towards state fascism." Not to mention arming Ukraine," he wrote.
It won't work without resistance, some tell Fiala. "So you should prepare for the latter as well, Mister. Philo. Citizens are already under pressure from your government in many areas. We are losing freedom of speech and independent police. We are losing democracy. Prepare for the backlash," one Twitter user wrote.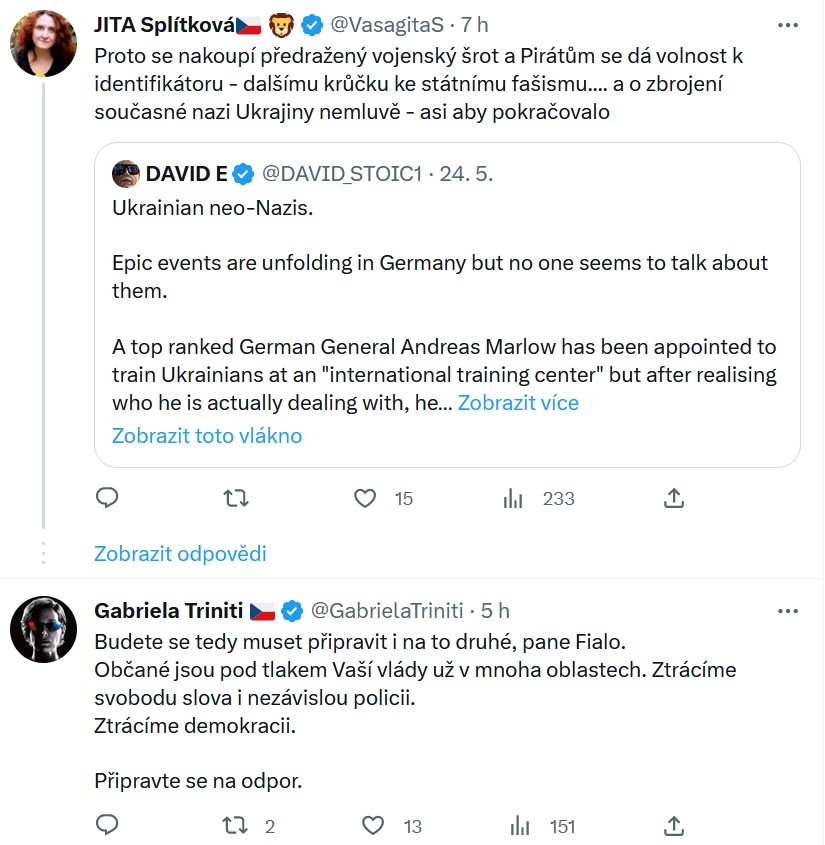 "It is impossible to tighten people to maximum strength and at the same time waste money on rewards for civil servants. Set ceilings for rewards, otherwise you will be screwed," said František Kolbel.
A cutback budget proposal with a large dividend at ČEZ reminded people that the government was responsible for the deficits.
The oft-voiced notion that the state should start on its own has also been cited as a violation of pre-election promises. "Why don't you realistically reduce government spending? Why should porn magazines be less than baby water? Why is there no excise duty on alcohol? How is the alcohol in it useful? Why did you promise not to raise taxes before the election, and why did you increase them after the election, even though you know how the Czech Republic works?" asked debater Pavel.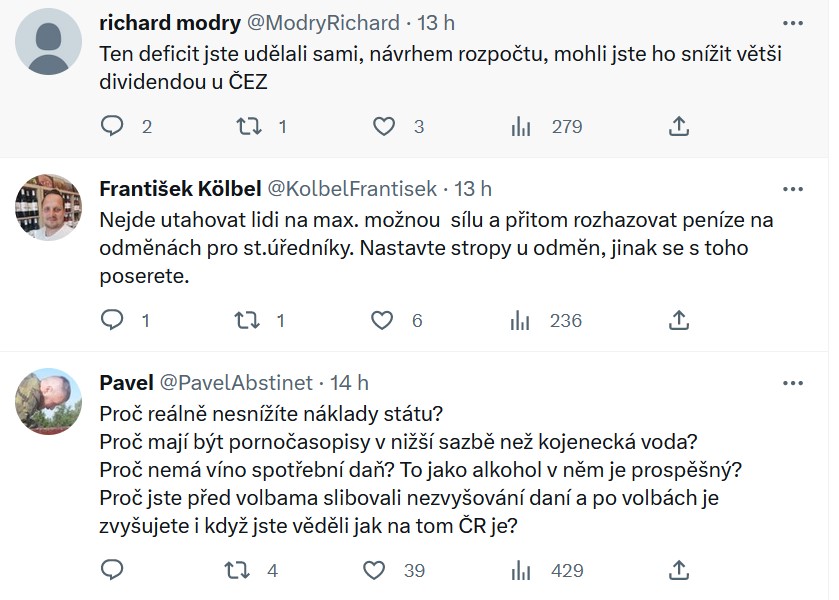 "We need to start saving on costs. Fire 70% of the officers now. Fire the police officers and fire 50% of them. Finally start saving now. That's how we do it as a family," added Joseph Peranek, his advice.

As part of an example of comparing the behavior of the state to a family with financial problems, people also offered other perspectives on how to solve the situation. "You're right, if the family can't afford it, they won't buy a car, that makes sense, if the government can't afford it, they'll buy dozens of armored vehicles, to me you can't choose," read one of the responses.
"It's a shame, I'm not your wife, brat from Brno! I'll divorce you and rob you as part of the divorce proceedings…" Martin Krejčar didn't pick up napkins with the Prime Minister.

You can also support PL's editorial office by purchasing a subscription. We do not show ads to subscribers.
Are you a politician? Post anything without editing. Register here.
Are you a reader and want to communicate with your representatives? Register here.