20.10.2023 22:57 | monitoring
At the Forbes "Better Czech Republic" conference in Karlovy Vary on Thursday, Prime Minister Petr Fiala (ODS) rated his government as successful, saying it "succeeds in solving existential challenges" and "has good results". Among his government's achievements, the prime minister included a recent tender for three dozen trains to Uzbekistan, but according to economist Hana Lipowska, many important details were not mentioned. She also looked at whether citizens themselves shared Fialo's opinion of the government's achievements. Most people have never heard of many ministers.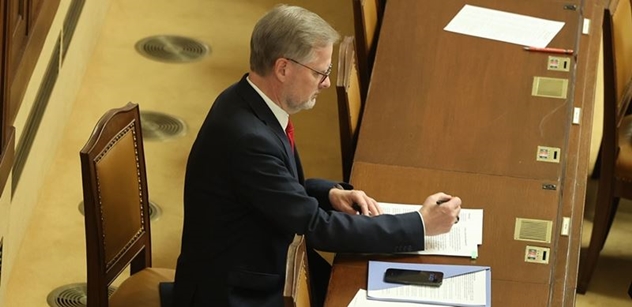 Questionnaire
Do you welcome the consolidation package presented by the government in the House of Representatives?
Voted by: 12200 people
In Karlovy Vary on Thursday, Fiala spoke about the future of the Czech Republic, saying his government had "succeeded in solving existential challenges" and was happy to support Czech entrepreneurs. As examples of his government's successful actions, Fiala named "the successful control of energy prices during large fluctuations or the more efficient payment of social benefits such as extraordinary child allowances".
"We are trying to spend more energy on commercial work and make the Czech brand a reliable partner, useful to deal with and do business with. And we have good results. For example, the tender for three dozen trains to Uzbekistan recently went to Skoda Group, thanks to the personal commitment of the government and successful economic diplomacy, " Fiala spoke about the manufacturer agreement at the conference. Public transport vehicles Škoda Group will supply 30 electric trains to Uzbekistan Railways for 320 million euros (almost 7.9 billion CZK).
Economist Hana Lipovska commented on the prime minister's words to "clarify" what is written about the contract in Uzbekistan itself: "Now what is being discussed here is what condition it will be in. Such a large order will be financed by Czech banks, which will provide Uzbekistan with relatively favorable credit for many years, and it will again be Czech. Guaranteed by the company EGAP."
"In other words, the Prime Minister considers it a major victory for his government, because of which the citizens of the Czech Republic will re-elect him for a second term, indicating that he belongs to a rich company. The Czech Republic will do its personal business with the 129th most developed country in the world.. . This business will be financed by Czech banks with favorable credit and guaranteed by the Czech state. According to the Prime Minister, this is the best Czech Republic he spoke about in Karlovy Vary," he said.
"We have to listen to the IT companies and create optimal conditions for them," Fiala stressed at a conference outside the tender. "We have a lot to be proud of, great companies like Avast or Kiwi were founded in the Czech Republic. The Czech IT sector needs to develop further and take full advantage of the advent of artificial intelligence," it said.
Lipovská added to the second-named "top" company that it would be good to mention the businessman and investor on Kiwi.com, who is currently the Pirates and past councilor in the South Moravian region. The billionaire supported the campaign of failed presidential candidate Dhanusa Nerudova.
Photo Gallery: – Debate on Faith
In addition to the Prime Minister's words, the economist also noticed that the Czech citizens have high distrust of Finance Minister Zbyňek Stanjur (ODS). According to the investigation Up to 66 percent do not trust the Center for Public Opinion Research (CVVM), and only 11 percent of citizens trust it.
He recalled that distrust in Stanjur had already reached the level of former President Milos Zeman, who was distrusted by the same number of citizens at the end of 2021.
But that's not the worst part. The government must have many ministers, which people in the Czech Republic often do not know. "The Minister of European Affairs, who calls himself a Eurohugger, Martin Dvorak (STAN) is a minister unknown to 64 percent of citizens. Legislative Minister Michal Šalamoun (for Pirates) is unknown to two-thirds of citizens, and Minister of Science, Research and Innovation, Helena Langsatlova (TOP 09) to 58 percent. Don't know. These are three new ministers, three new portfolios that we pay for… we can do without them, but on the other hand, they are so insignificant, it doesn't matter that they are unknown," commented Lipowska. , 60 percent of respondents do not know about Education Minister Mikuláš Bek (for STAN), which is worse.

Watch the full video here: